Mei He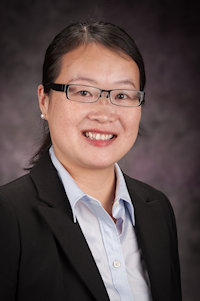 Assistant Professor
College of Engineering
Department of Biological and Agricultural Engineering
Degrees
Ph.D., Chemistry, University of Alberta
Contact
785-532-5580
meih@ksu.edu
Research
Nano/microfluidic technology, nano-scale integration of functional biomaterials for biomarker discovery, personalized medicine, point of care diagnosis and mobile health.
http://www.bae.ksu.edu/people/faculty/he/index.html
Major equipment
Fluorescence microscope, class 100 HEPA clean bench, COMSOL work station, two 3D printers
Publications
Z. Zhao, Y. Yang, Y. Zeng, M. He. A Microfluidic ExoSearch Chip for Multiplexed Exosome Detection Towards Blood-based Ovarian Cancer Diagnosis. Lab on a Chip, 2016, DOI: 10.1039/c5lc01117e.
K. Plevniak, M. He. Microfluidic Technology: the Next –generation Drug Discovery Tool. Drug Target Review. 2015, 2 (3): 18-20.
M. He, J. Crow, M. Roth, Y. Zeng, A. K. Godwin. Integrated immunoisolation and protein analysis of circulating exosomes using microfluidic technology. Lab on a Chip, 2014, 14, 3773-3780 (Royal Chemistry Society Lab On a Chip 2014 Most Accessed Article)
M. He, J Novak, B. A. Julian, A. E. Herr. Membrane-assisted online renaturation for automated microfluidic lectin blotting. Journal of the American Chemical Society, 2011, 133, 19610-19613.
M. He, A. E. Herr. Automated microfluidic protein immunoblotting. Nature Protocols, 2010, 5, 1844-1856.