Transmission Electron Microscope - Tecnai G2 Spirit BioTWIN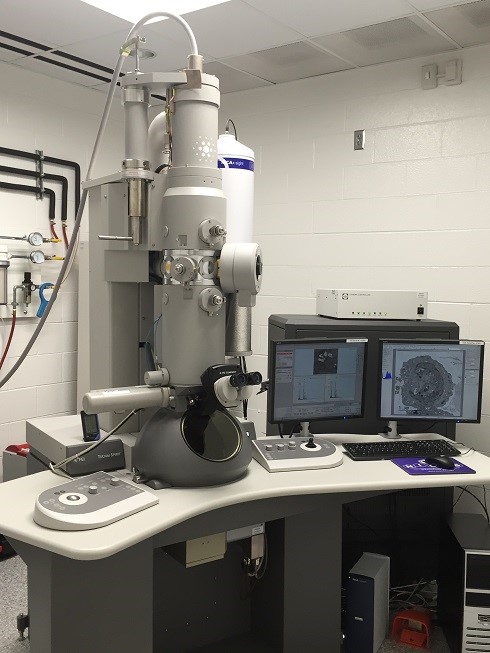 The Tecnai G2 Spirit BioTWIN, a 20-120 kV W/LaB6 is a fully digital transmission electron microscope suited for general research in cell biology, structural biology and nanotechnology to study morphology as well as chemical composition.
This microscope has BioTWIN lens configuration and bottom mounted Gatan Digital image capturing system (UltraScan 1000XP 2k X 2k CCD camera) suitable for high contrast imaging of biological and soft matter samples. Low dose observation mode makes beam sensitive and cryo temperature imaging easier. These features enables native state of low contrast, stained or unstained beam sensitive biological or soft matter specimen at room temperature as well as at cryo temperature analysis under TEM. TEM scope is equipped with Fischione FP 120/20, high angle annular dark field (HAADF) detector for Scanning-transmission (STEM) mode imaging, which yields z-contrast information of the specimen.
Recently purchased Oxford X-Max 65T SDD liquid nitrogen free 65 mm2 sensor area, EDS detector, which allows detection form Beryllium to Plutonium with resolution of 70 eV at 20 kcps for elemental identification, mapping and quantification.